A good to excellent FICO credit score is highly recommended to make the most of your travel hobby, as this will maximize your ability to get top-tier cards and be targeted for the highest sign-up bonuses. This means that if you have a FICO under 700, I would urge that you exercise caution. While there is nothing wrong (and everything right!) with building up credit, you will likely find only being approved for a few products, especially in the beginning.
If this describes your situation, treat this whole endeavor more as a marathon than a short sprint – it will take time for you to improve your credit so you get access to higher-tier cards and higher credit limits. Generally, the best rewards cards are limited to the top 25% of FICO scores.
Background
Credit Score Summary
Credit Score Factors
Getting an Annual Credit Report
Signing up for Active Credit Monitoring
Background
If you maintain the course, strategically apply for the right credit cards every 6 months or so, while maximizing the rewards available for your spending, and, most important of all, show good credit habits, you will be able to reach your goals in just a couple of years. While this may seem a bit daunting at first, remember that good credit is key to many things and you will find that the effects upon achieving it range far beyond credit cards! Everything from being approved for mortgages and car loans, determining your loan interest rate, to whether you need a deposit for utilities or a cell phone contract hinges on your FICO score. It even affects your employment: it is an unfortunate fact that there are still many employers out there who either completely screen out applicants or decide who they hire simply based on their credit score!
Credit Score Summary
Hopefully, by this time, you appreciate how important these 3 numbers are in your financial and everyday life! Let's dive in a little deeper and see what exactly goes into determining your score with the following chart:
Credit Score Factors
Let's break down each category, from most to least impactful, so you know what each terms refers to:
Payment History
We start off with the most important factor, contributing to your credit score. The first thing any lender wants to know is if you are making your payments on time. In fact, they will look as far back as possible for this on your report – generally, anywhere between 7-10 years, with the exact time period varying based on the state that you live in. This includes not just credit cards, but all sorts of other debt including mortgages, car loans, and student loans. They will also pay attention to any publicly records items in your file such as bankruptcies, lawsuits, and wage garnishments. Even a late utility payment can potentially affect your score! Anything under a 95% on-time payment history is generally considered a major risk and will really take a toll on your credit. A 99% percent rate or above is generally required for any credit score above average with a 100% rate being your goal. While this will take a long time to achieve if you have ever had a prior slip up or error, remember that the rewards of good credit are more than worth it. Once you achieve this coveted rating, it is up to you to make sure that you do everything possible to maintain it!
Credit Utilization
Credit utilization is the ratio of your total credit card balances to your overall credit limits. Some algorithms also factor in each individual account, while others only look at the sum total into figuring your score. Regardless of the approach, this factor measures how much of your credit limit is being used. While it may sound counterintuitive, banks do NOT want to see you using a large amount of your limit – even though they approved you for a certain amount that they figure you can pay back without defaulting, they prefer that you use no more than 30% of your credit at any point in time. This would amount to using your card to purchase no more than $300 on a total credit limit of $1,000 (keep in mind that all charges that have not been paid are counted in this including any purchases you recently made, not just the ones that show up on your prior statement!). In general, the lower your credit utilization, the better. A low credit utilization shows you're only successfully using a small amount of the credit that's been loaned to you and are keeping up with your payments. Again, somewhat confusingly, a zero utilization ratio is actually bad: if you do not use the card to make any purchases, the issuing bank is not making any money and is essentially losing money on the card that they issued to you. As such, it is generally wise to aim for a utilization rate between 5-10% in order to maximize your credit score. Although tricky, it is ideal to have this same ratio across all your cards (e.g. using no more than 5-10% of the credit limit of EACH card, not just an average of 10% based on all your card accounts), in order to account for all scoring models.
Age of Accounts
The average age of accounts, representing the number of total months of all accounts on your credit report from their open dates to the present, divided by the number of accounts. The oldest account is defined as the account with the earliest open date, and the newest account as the one with the most recent open date. Even though the absolute number of 15% that this factor contributes to your total score sounds low, this category is still very important – remember, that everything else being equal (you have perfect payment history, high limits, and low utilization), your score can fluctuate by more than 10% just based on this one parameter! Always check or at least think about how closing an account, which you've had for more than several years, will affect your score to ensure you do not suffer an unexpected decrease – it sometimes makes sense to keep an account open just for this reason until your other accounts bring up the average age. Additionally, a short credit history can additionally hurt you when you are first starting out as banks see you as a higher risk, independent of your score. That's why it's incredibly important to start building your credit – the sooner, the better.
Inquiries
As far as your credit score is concerned, credit inquiries can be either "hard inquiries" or "soft inquiries". Soft inquiries are all credit inquiries where your credit is NOT being reviewed by a prospective lender. These include inquiries where you're checking your own credit (such as checking your score), credit checks made by businesses (such as credit card offers), or inquiries made by businesses or banks with whom you already have a credit account. Hard inquiries are credit inquiries where a potential lender is reviewing your credit because you've applied for credit with them. These include credit checks when you've applied for an auto loan, mortgage or credit card. Only hard inquiries from the last 2 years have an affect on your credit score. Each of these types of credit checks count as a single credit inquiry. One exception occurs when you are "rate shopping". In this case, a majority (but not all!) score algorithms consider all inquiries within a 45-day period for a mortgage, an auto loan, or a student loan as a single credit inquiry. This same guideline also applies to a search for an apartment. For most people, one additional credit inquiry may not affect their score at all or would take 5 or fewer points off.
Account Mix
Many credit scoring algorithms, including FICO, evaluate not just your loan amounts and lengths, but also your loan types. In fact, achieving a maximum score requires having a variety of loans. Not meeting this requirement will certainly not result in a big penalty, but if you can't seem to reach that coveted perfect score, this may be the reason! Also, keep in mind that there really isn't a magic formula of the precise account mix – it defiers by individual based on other factors and by the specific credit algorithm that is being used. In general, loans are broken down into one of the following four types:
Installment. Installment accounts are those that have a fixed payment for a fixed period of time. You are not required to pay them in full each month and can make a payment that is going to be the same every month (installment) until the loan is paid in full. The original loan amount and balance usually has interest and carries an annual percentage rate. Typical examples of this include auto loans, mortgages, student loans, home equity loans, and similar programs.
Revolving. Revolving accounts are those that require a variable payment each month, which depends on your present balance. These are accounts that you are not required to pay in full each month, but there is no penalty or negative consequence if you do. You have the option to "revolve" some or all of the balance to the following month but the lender will charge you interest on the amount you revolve and this is how they make money. Most will still demand that you make at least a partial or minimal payment to ensure that you are able to meet your obligations. If this sounds familiar, this is how credit cards work, which is, by far, the most common example for this loan type. Other lines of credit, such as home equity lines of credit, and personal lines of credit are additional loans of this type.
Open. These accounts are the least common and are also known as "open credit," because they combine features of both installment and revolving loans. The payment is not the same each month and it's usually due in full at the end of each billing cycle. You satisfy your financial responsibility for the account when you pay the bill in full each month on or before the due date. This cycle can go on as long as the consumer has an account with the business. Utility accounts are the most common example for this type – you don't know how much electricity you will use or how much it will cost this month but you are responsible for making this varying payment each billing period. Charge cards are also subtypes of this, as they do not give you the option to pay over time – you must pay the entire balance due on the statement closing date and the balance depends on the charges that you put on it over the preceding billing period.
Getting an Annual Credit Report
Now that we've covered all the basics, everyone should be aware of and actively involved in managing their score by monitoring their credit report – it is by means uncommon to see errors on your reports from the main credit bureaus, who act as the gatekeepers to your financial well-being. In fact, an average of 1 out of 5 people (20%) will have at least one error in their credit file, which is significant enough to make them appear a bigger credit risk than they really are! Add to that recent massive data breaches, many of which include credit information, and you can see just how important it is to be alert to any changes in your file.
Fortunately, there are many services available to keep on top of your credit report. To start, you can go to this Federal Trade Commission (FTC) website, which allows you to access your credit reports for free once a year. This service tracks when you access it, so if you want to check your credit again sooner, you will only be only to do so by paying a small fee to each of the bureaus. While obviously an excellent first step, I consider this to be the minimum necessary involvement with your credit file.
Signing up for Active Credit Monitoring
The next step is to become an active participant and make a habit of accessing your score on a much more regular basis, preferably monthly or more frequently. There are multiple services out there that help you do just that and keep on top of your credit, all for free! In fact, many credit cards offer their own version of this service, but this is generally limited to just giving you a FICO or variant score. Personally, I highly recommend using Credit Sesame, which goes a step above and offers Great Ways to Better Manage, Protect, and Monitor your Credit and Identity
. Not only do they provide you with an up-to-date VantageScore ® 3.0 score every time you log on, but they also give you a detailed credit report, offer real-time alert services, notifying you of major changes to your file, in addition to providing free identity theft protection!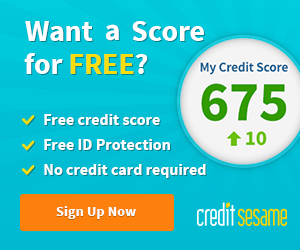 For full disclosure, they are also an advertising partner for this site and your support would be greatly appreciated so I can keep putting out more content and help offset the costs of running MileNavigator. I believe that credit monitoring is key to your financial health, even without pursuing travel awards. Given the importance of this issue, feel free to simply navigate to their site instead of using these links or give the other services out there a try if you prefer!
TheMileNavigator